Over 20 years ago, when I was researching every game played by the Pacific Coast League's Vancouver Mounties and major events in baseball history in Vancouver, the only option I had was to sit in the main branch of the Vancouver Library and go through reels of newspaper microfilm and hand-write some notes. I still have those notes in a shoebox. Some day I may actually find time to do something with them.

Today, those microfilm reels are still there, though some are now scraped up and unreadable. One newspaper that I viewed in hard copy is now on reels and difficult to read thanks to the way the microfilm was shot.

However, today we also have the web and it's amazing the places you can go to find things of interest to fans of the Western International League fans, and those of other minor baseball leagues of former times.

In an earlier post, I referred to digitised archival photos. But I want to tell you about a couple of other places:

• SABR has a huge project, still underway, to create a minor league player database. Records of some of the bye-gone days are incomplete. But it's an admirable thing to try to accomplish as the records simply haven't been accessible to most of us. However, if you go HERE you can peer into the database. As I say, it's still under construction. Eventually, ball fans will wonder how anyone got along without that information. I'm so appreciative to the people who are working on this.

• Some of the information on this site and even some of the pictures come from a free on-line newspaper archive. THIS SITE IS DOWN AGAIN. I'LL POST THE URL AGAIN WHEN IT'S UP.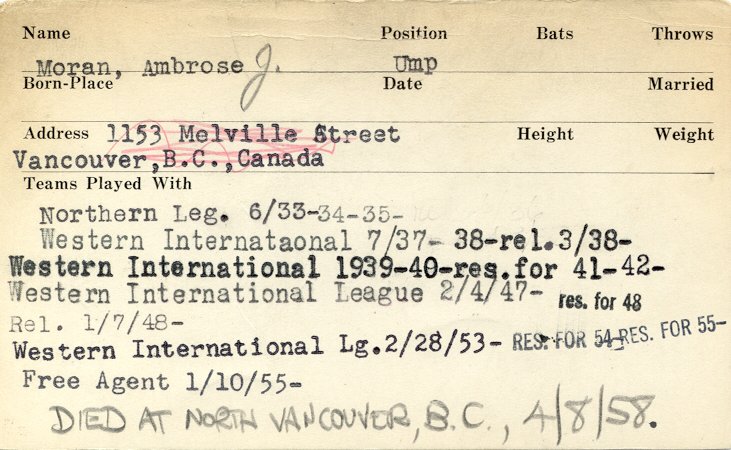 • Finally, something I stumbled on today by accident is a great Project Retrosheet database. It has scans of The Sporting News' minor league umpire index cards. You see Amby Moran's to the right (I learned from this card that Amby lived about seven or so blocks from me; probably in a rooming house in those days). Click HERE for the alphabetical listings. This arcanity may not be as popular as the minor league player historical database but it certainly is useful to researchers and I'm glad someone took the time to do this.

I'm sure there are more nooks and crannies of the web with some more useful research gems for fans of old minor leagues, but those are just a few I thought you might like to know about.